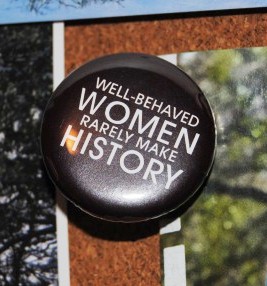 By Davalynn Spencer @davalynnspencer
If you didn't know by now, March is Women's History Month. I'm guessing that's the reason someone left this button in my inbox in the teacher's lounge at the college.
It makes me laugh every time I notice it on my "inspiration" tack board in my office, reminding me of all the women we read about who made a difference in the lives of others. However, I can think of several women who did make history, in spite of being well-behaved. One in particular comes to mind. I'm sure you can name her.
Recently an Amazon reviewer commented on an impactful fictional woman—my heroine, Corra Jameson, in "The Wrangler's Woman," my novella in The Cowboy's Bride collection. The remarks caught me by surprise.
The reviewer liked "… Corra's influence on the Hanacker Family. It isn't limited to just Jessica, and the effect of her presence in their lives is heartwarming. The romance adds to the story, but for me the highlight was the change in the family after Corra had been there for a couple of months."—MeezCarrie
It's interesting for an author to see how a reader interprets a character, and this interpretation blessed me because isn't this what we want in our own lives? To have an influence on our family and see people change because of our presence and our beliefs?
Scripture has a lot to say about a woman who makes a difference. Chapter 31 of Proverbs gives an entire list of such a woman's characteristics, and notes the following results:
 Her children rise up and called her blessed;
her husband also, and he praises her.
Let's make history in the lives of our families, not just this month, but every day.
Is there a woman in your life who impacted you for the better? I'd love to read your answer below.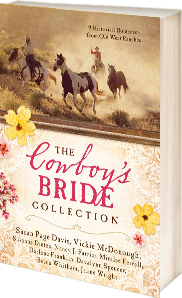 Newsletter | Facebook | Pinterest
#lovingthecowboy