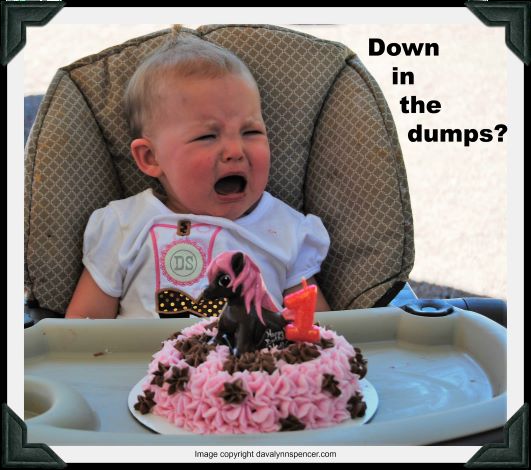 By Davalynn Spencer @davalynnspencer
Have you ever heard the phrase "down in the dumps"?
It's been around about 500 years, according to people who look that stuff up.
Though the idiom is nearly self-explanatory, some etymologists believe the word "dumps" may have come from a Dutch or German word meaning hazy or musing. In sixteenth century English, dumps referred to a fit of depression.
Regardless, we know what it means because our words "down" and "up" are heavily hinged with emotion. No explanation needed.
I've been in the dumps. I don't like it there, but sometimes it's hard to climb out on my own. I need someone to reach down and grab me in one of those hand-to-wrist holds and pull me up.
Most often, God does this for me through His word and my friends. It's amazing how the two coincide and confirm what the other said.
My recent trip to the dumps was cut short by my friends. Then Psalm 40:1-3 came to mind, verses I'd memorized years ago. They bubbled right up out of my heart, lifting me with them, comforting me with the knowledge that a king who had everything also knew what it was like down there in the dumps.
David, King of Israel, wrote:
I waited patiently for the Lord;
And He inclined to me,
And heard my cry.
He also brought me up out of a horrible pit,
Out of the miry clay,
And set my feet upon a rock,
And established my steps.
He has put a new song in my mouth—
Praise to our God;
Many will see it and fear,
And will trust in the Lord.
Did you catch the "miry clay" part? That's why it's hard to get out on our own.
The only thing the Psalmist did in this exchange was wait – which is maybe one of the hardest things in the world to do.
God did everything else.
He inclined – leaned over to listen.
He heard.
He brought up – lifted
He set David on a rock.
He established his steps – got him back on the right path.
He put a new song in his mouth.
The next line surprises me: "Many shall see it…"
How do you see the song in someone else's mouth?
I think it shows on their face. Their demeanor changes, their eyes light up again.
And finally, the results of God rescuing someone from the dumps:
"Many…will trust in the Lord."
That sounds like the Lord working a bad thing into a good situation.
Thank God for faithful friends and the faithfulness of His word.
~
Down in the dumps? Reach up! Click To Tweet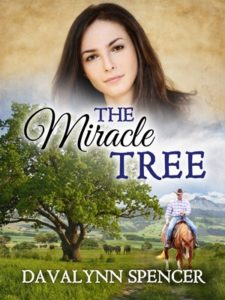 "We can't stop change, can we?" A sad note played in her voice. "Go back to the way things were."
His lip curled at her mention of his secret resentment. "Nope."
She looked squarely at him then. "If we could, what would you change?"  ~The Miracle Tree
Connect with me via Newsletter | Facebook | Pinterest
#lovingthecowboy
(c) 2018 Davalynn Spencer, all rights reserved.
#WesternRomance #ChristianFiction #CleanRomance