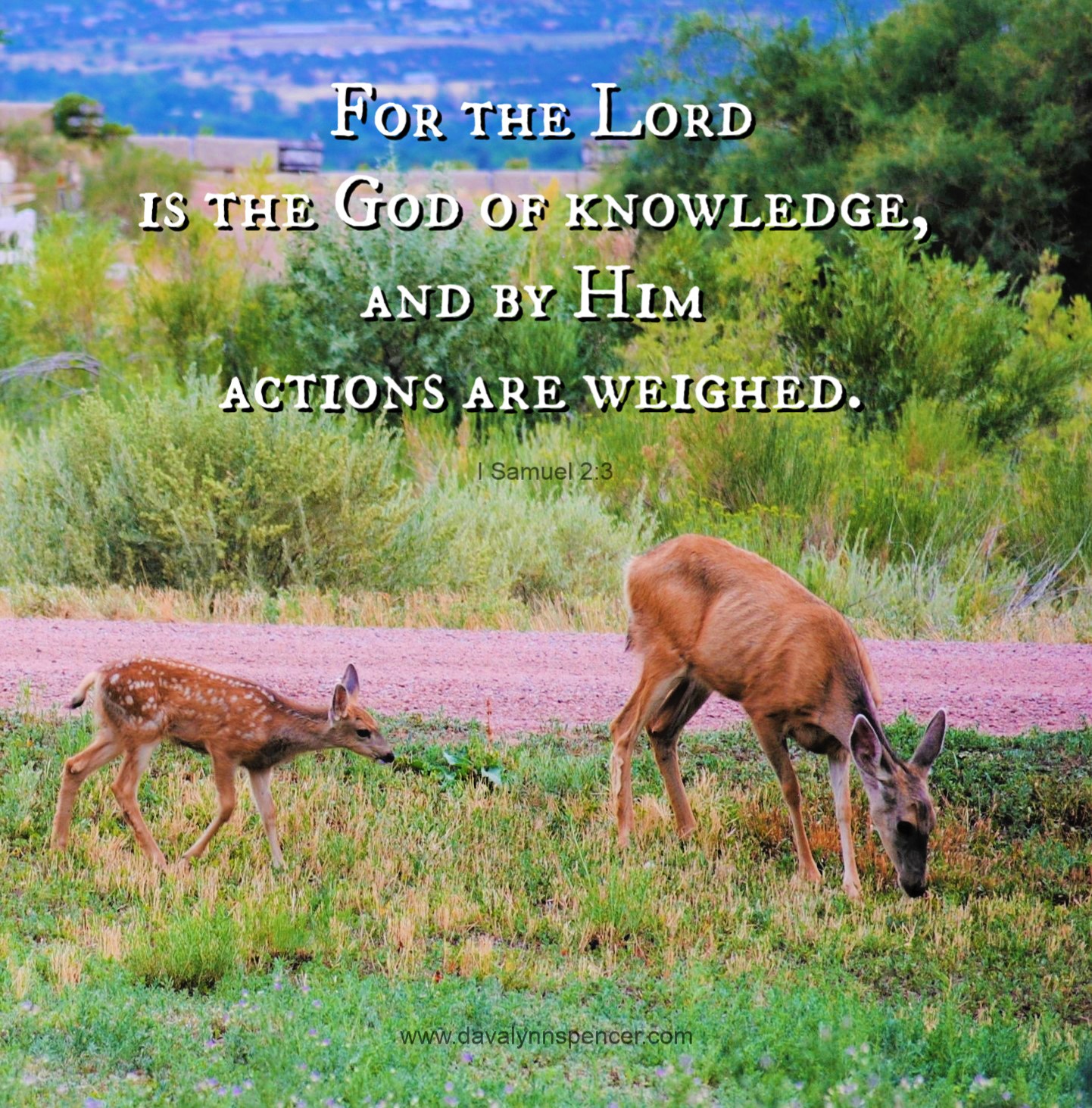 By Davalynn Spencer @davalynnspencer
"For the Lord is the God of knowledge,
and by Him actions are weighed."
The first time I saw this quote I wanted to know who made such an insightful observation.
Then I learned it was a SAHM who went from sad to glad because she had turned to the One who could make a difference in her life.
A woman named Hannah spoke these words, but they were not her first.
She initially said something like this:
Oh God, please help me. My heart is breaking. Please hear me. Only You can help me. Oh God, please, "out of the abundance of my complaint and grief" I am crying out to You.
She was so distraught that the pastor at her church thought she was drunk.
Yes, she was drunk. She was drunk on despair and desperation so she went to the only One who could help.
And He did.
This encouraging quote comes from a prayer of thanks that can be found in I Samuel 2:3. The entire chapter is an amazing passage, but I encourage you to read chapter 1 as well so you get the whole picture.
Hannah learned that God knew her and her heart—really knew her—and that He also saw her actions and considered them. This phrase was perhaps a precursor to "a tree is known by its fruits" and "you will reap what you sow."
Do you think she shared this wisdom with her children?
For those of you who don't know what a SAHM is, it's a stay-at-home-mom. Hannah isn't a mother in chapter 1 but she is in chapter 2.
Some of the best teaching in the world has come from mothers, whether they are SAHMs or women who also work jobs outside the home.
This week, prior to Mother's Day, find yours or someone who represents that role in your life and thank her for what she's given you.
~
Some of the best teaching in the world has come from mothers.
Click To Tweet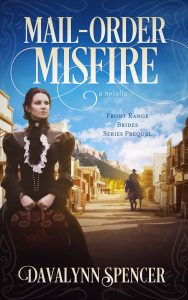 Etta set her teacup and saucer aside and unfolded the thin paper. Uneven script, almost juvenile in its lack of refinement, covered the sheet. At her glance, Pastor Fillmore nodded, then rested against the chair back with his coffee in hand, prepared to wait for her perusal.
                                                                        Lockton, Colorado, October 1879     
Dere Pastor Fillmore,
I hope this letter finds you and your wife well since me and Gracie and Ruth left. Ruth went to heaven some three years past. Gracie fares well as does the small congrugation I serve temporary being the sherif and all but my heart grows weary to bear my burdens alone. Would there be a kind and helpful mother-type woman in your church willing to come to Colorado and help me? Like the mail order brides who join other men here at the Rocky Mountains.
God bless you for your help. Please write back to Gracie and send to the general store.
                                                            Sherif Bern Stidham
The pastor's eyes clearly danced in anticipation of Etta's opinion.
She accommodated him. "This does not read like a letter penned by any man, whether educated clergyman or desperate sheriff." ~Mail-order Misfire
Inspirational Western Romance – where the hero is heroic.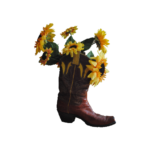 Want a free book? Sign up for my Newsletter!
#lovingthecowboy
(c) 2020 Davalynn Spencer, all rights reserved.
 #WesternRomance #ChristianFiction #FreeBook #HistoricalRomance