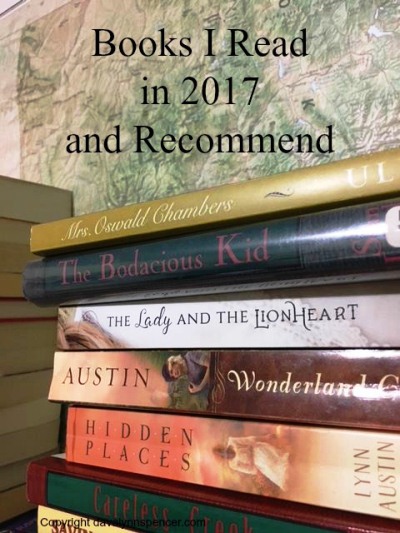 By Davalynn Spencer @davalynnspencer
I read a lot of books last year. It's what I do besides write. I won't share them all with you today, but I want to mention five that stood out and stayed with me. Four are fiction, one is a biography. They're not all new releases. One is more than twenty years old and is not considered "inspirational," but a good book is a good book.
If you choose to read these titles, I hope they entertain and bless you as much as they did me.
Fiction:
The Lady and the Lionheart by Joanne Bischof (2016 Mason Jar Books)
            I couldn't let go of this inspirational historical romance. It moved my heart in unexpected ways, taking me to a world I never dreamed I would see. A tale of love and great sacrifice, trust and acceptance. To say it impacted my life would be an understatement.
Wonderland Creek by Lynn Austin (2011 Bethany House)
            This is the captivating story of a young woman from Illinois in 1936 who takes a box of books to a small coal town in eastern Kentucky – and ends up working for the Packhorse Library Project. Absolutely unforgettable characters supported by rich and unique vignettes of God's grace.
The Bodacious Kid by Stan Lynde (1996 Cottonwood Publishing)
            I read a half-dozen Lynde books this year—all because of this one, recommended by my cowgirl friend Lynne. This is a true "Western" similar to Louis L'Amour, but Lynde writes with a Montana-sized sense of humor. His character, Merlin Fanshaw, is addictive. Just sayin'.
A Lady in Defiance by Heather Blanton, Book 1 of the Romance in the Rockies series (2014, Rivulet Publishing)
            Three sisters on their way to California settle in Defiance, Colorado, after meeting heartache, regret, and an obstinate saloon/brothel owner.  This isn't a peaches-and-cream sweet romance. It's gritty. But it is Christian fiction and God shines all the brighter.
Nonfiction:
Mrs. Oswald Chambers by Michelle Ule (2017 Baker Books)
            The subtitle to this book is: The Woman behind the World's Bestselling Devotional, and that's one of the reasons I enjoyed it so much. I love Oswald Chambers and have read My Utmost for His Highest countless times. This book offers readers a glimpse of the Chambers' life from England to the Egyptian desert, how they raised their daughter, and the great love they had for God and for each other. It's a compelling account that draws the reader into the life, labor, and love of a remarkable woman. Learn more about author Michelle Ule at her website.
Note:
Researchers say reading gives our brains a good workout. It improves concentration, memory function, and sleep and also helps reduce stress. (It helps authors too!)
Another Note:
I have included Amazon links to the books for simplicity's sake, but please remember that books can be purchased from several different online retailers, in brick-and-mortar book stores, and via author websites. Happy reading! And may all that you read be uplifting.
~~~
Connect with me via Newsletter | Facebook | Pinterest
#lovingthecowboy
(c) 2018 Davalynn Spencer, all rights reserved.