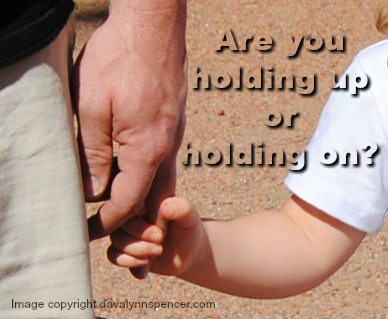 By Davalynn Spencer @davalynnspencer
"How are you holding up?" an acquaintance asked the other day.
The answer came without consideration: "By holding on."
The phrase "holding up" insinuates personal stamina, strength, jaw-clenching determination.
But "holding on" says something else entirely. It points to solidity outside myself.
I don't have the strength to hold up under life's pressures and disappointments. But I can hold on to the One who is holding on to me.
And He never lets go.
Yet I am always with You;
You hold me by my right hand.
You guide me with Your counsel,
And afterward You will take me into glory.
… no one can snatch them out of my hand.
… no one can snatch them out of my Father's hand.
If God really was behind this whole business proposition of Mae Ann's, then it was a whole lot more than Cade just showing up at the wrong place at the right time.                                                                                    ~An Improper Proposal
Connect with me via Newsletter | Facebook | Pinterest
#lovingthecowboy
(c) 2017 Davalynn Spencer, all rights reserved.