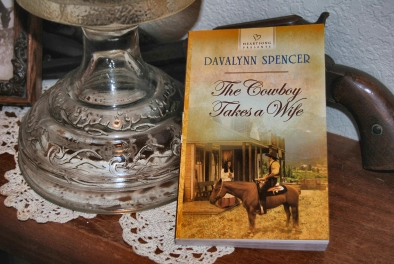 The Cowboy Takes a Wife releases on Kindle today and in paperback on Feb. 4. Read on to see how you can win a signed copy.
***
Before Colorado statehood was attached to this stretch of prairie and Rocky Mountains, it was known as Kansas Territory (or Jefferson Territory to the hardliners). The Arkansas River cut out of the mountains near a Ute encampment and coursed through a little mine-supply town called Cañon City.
And that's where I begin my story of Caleb Hutton and Annie Whitaker in The Cowboy Takes a Wife—Cañon City, 1860.
This month I'm promoting the book during a blog tour without ever saddling up.
I wonder what Caleb would think of traveling via the Internet rather than horseback.
Some of my stops will offer an opportunity to win a free signed copy of the book, plus a look at character profiles and author interviews. I hope you'll visit one or all of the locations listed below.
A book signing is also scheduled at Words of Life book store on Cañon City's Main Street Feb. 8 from 1-3 p.m., not too far from where my characters meet in the fictional Whitaker's Mercantile.
Plus I'm offering my own give-away right here in a random drawing of people who comment on this blog post prior to Feb. 8. Be sure to leave your email address in your comment so I can contact you if you win the book.
May Faith and Fresh Hope be yours.
Jan. 30             Guest post: Personal experience with Becky Jacoby at http://www.beckyjacoby.com/davalynn-spencer-surprise-affirmations-provide-a-lift/
Feb. 3 Author interview and BOOK GIVE-AWAY with Laura Davis at http://www.interviewsandreviews.com/
Feb. 10 Guest post: Personal experience with Christine Lindsay at http://www.christinelindsay.org/
Feb. 11-12 Author interview and BOOK GIVE-AWAY with Martha Rogers at http://www.marthasbooks.blogspot.com/
Feb. 12 My marketing tips at http://www.seriouslywrite.blogspot.com/
Feb. 24 Heroine Annie Whitaker interview and BOOK GIVE-AWAY with Margaret Daley at http://www.margaretdaley.com/margarets-blog/
Feb. 26 Author interview and BOOK GIVE-AWAY with Hallee Bridgeman at http://www.bridgemanfamily.com/hallee/