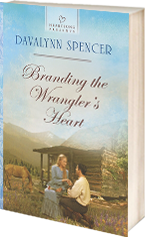 "Blot out my transgressions" is printed in blue ink on the back cover of my new book, Branding the Wrangler's Heart. That phrase is from Psalm 51:1,2 and it undergirds one important question in the book:
Will Livvy forgive Whit for how he treated her in the past?
 As the book title indicates, branding is a key element in this tale set in 1879 Fremont County, Colorado, near Cañon City.  Not a lot has changed since then when it comes to cutting people enough slack to let them change their ways—and let the good Lord put His brand on them.
To celebrate the book's release, I'm giving away a copy this week. Be sure to leave a comment on this blog before May 10 to be entered. And don't forget your email address so I can notify you if you win.
If you'd like to see what I "see" for the setting and characters of Branding the Wrangler's Heart, check out my Pinterest page.
And to hear my radio interview about the book on Christian Author Talks, click here: 
Unlike cattle, we get to choose whose brand we wear. Here's hoping that you'll choose the Lord and let Him fill your life with faith and fresh hope.
Davalynn
Sign up to receive this blog via your email as well as my quarterly newsletter.  Both sign-up buttons are in the upper right of this page.