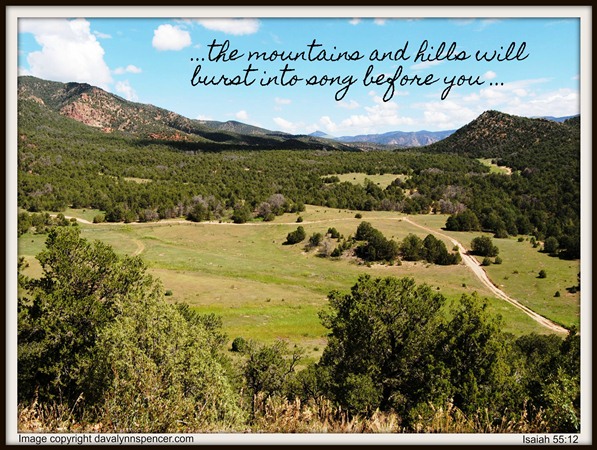 By Davalynn Spencer @davalynnspencer
I've often been told that the settings of my stories are almost like characters impacting the humans. That makes me smile because natural landscapes and seasonal weather situations affect how people live.
Each geographic location has its unique challenges whether mountain, desert, forest, prairie, or seascape.
But regardless of where we are, God's fingerprint can be found in His creation, and scripture reminds us to look beyond ourselves to see the evidence.
"… where morning dawns and evening fades you call forth songs of joy." (Psalm 65:8)
"The grasslands of the wilderness overflow; the hills are clothed with gladness
… they shout for joy and sing." (Psalm 65:12, 13)
"He covers the sky with clouds; he supplies the earth with rain and
makes grass grow on the hills. He provides food for the cattle …" (Psalm 147:8, 9)
Since most of my stories are set along the Rocky Mountain Front Range, I love painting a glimpse of what can be seen and felt here and my recent release is no exception.
Continuing north with the meadowlarks' encouragement, she drank in the earth's sweet perfume after the storm. Everything was fresh and clean, and she reveled in the sense of new beginnings … marveling at the cerulean sky and rolling grassland that spread unfettered between mountain ridges. She felt exactly the same—unfettered. Free yet belonging to someplace, to someone.                   – An Improper Proposal
May you stop this summer, drink in the joyful songs, and breathe in the beauty around you. Wherever you are, if you take a moment and look for the hidden treasure He's left for you to discover, you'll find it.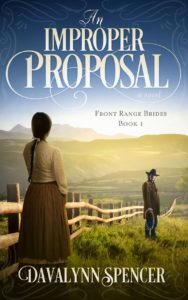 She wanted to lose herself in the wildflowers and grassland and drink in the meadowlarks' songs. – from An Improper Proposal
Connect with me via Newsletter | Facebook | Pinterest
#lovingthecowboy
(c) 2017 Davalynn Spencer, all rights reserved.