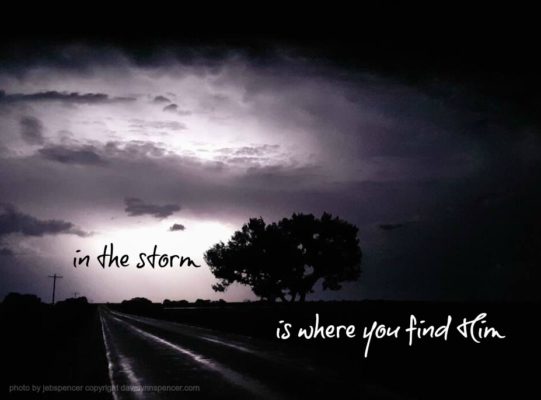 By Davalynn Spencer @davalynnspencer
We all face storms.
Hurricanes. Wildfires. Sick children. Disinterested spouses. Cutbacks at work.
Yet in their song "Just Be Held," contemporary Christian band, Casting Crowns, sings, "In the storm is where you'll find Me."
Whoa – how can they say that?
"They've never been through my storm," you may argue. "They don't know my pain."
But they know God.
I believe we find God in the storm because He doesn't cut and run for cover. He stays with us, right beside us.
He is our cover.
I cannot improve on the lyrics to "Just Be Held," so I encourage your to click on the link here and just listen. This song presents some of the most powerful, encouraging words in music today.
Listen with open ears, but watch, too, for the lyrics appear on the screen, and there's an added comfort in seeing God's offer  printed out before you.
Whatever your storm this week, you'll find Him there.
He makes the clouds his chariot and rides on the wings of the wind.                                Psalm 104:3
Mae Ann had learned what a summer storm could do. Rain-gorged creeks became raging rivers, and if Cade didn't stop the wagon before they reached the upper crossing of Olin Creek, they might not make it across without being swept away.
"Oh, Lord, we need Your help." The slashing rain and wind tore the words from her lips.
                                                         ~from An Improper Proposal
Connect with me via Newsletter | Facebook | Pinterest
#lovingthecowboy
(c) 2017 Davalynn Spencer, all rights reserved.