There is a curve in US Highway 50 west of Cañon City, Colorado, that the locals call Soda Point. For perhaps a couple of centuries a natural soda spring bubbled up there and Utes and explorers alike took the waters.
In the late 1940s someone or many someones decided that a paved highway was more important than the spring, and that natural wonder has long slept beneath the humming wheels of cars and pickups and semis.
But the curve is still referred to as Soda Point, and distance from it is still reckoned. Eight Mile Hill, Four Mile Creek—both places were originally measured from Soda Point in the mid1800s, and both locales bear the same names today.
For me, Soda Point serves as a portal from the present to the past, for when I round that bend, I step into the world of my historical fiction characters.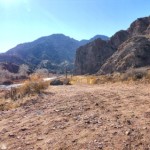 In my latest book, The Cowboy Takes a Wife, Caleb Hutton rides his horse Rooster up the river past Soda Point, mulling over his mistakes in life. He's caught in a late fall snow storm and makes it back to Cañon just in time. He also rides the trail that follows a wrinkle of up-shot rock called the Hogbacks on his way to a ranch that doesn't need him. Discouragement dogs Caleb until he finally learns what God can do with failure.
Though my characters are fictional, the land is not, and I imagine the ochre walls and red abutments overlooking the Arkansas River are much the same today as they were a hundred and fifty years ago.
I know people's struggles are the same, and we still try to run away from our problems rather than trust the Lord to show us how to work through them.
Today a steel gate blocks the path that my character, Caleb, would have taken on his ride upriver to the mouth of the great gorge. But for those who want to see the area, there's a hiking trail along Tunnel Drive west of town, just before the turn off to Pueblo Community College's Fremont Campus. From that high vantage point, one can look out over the Arkansas River and up Grape Creek where Caleb heard the "laughing waters" and saw deer scaling the canyon's walls.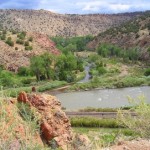 Funny, how still today, a walk through God's creation can help us focus on His voice and His answers.
I hope you enjoy reading The Cowboy Takes a Wife – the first in this historical series set in Cañon City, Colorado.  I had a great time writing it.
Davalynn