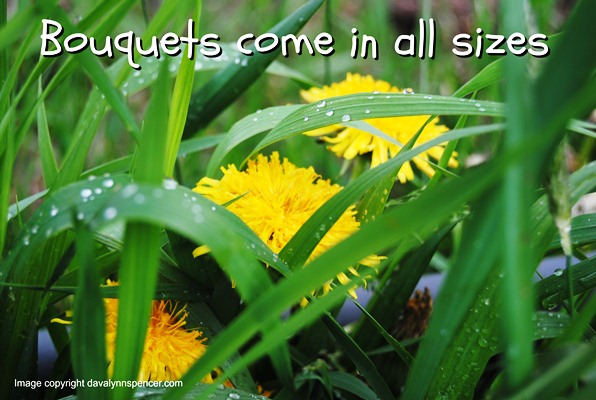 By Davalynn Spencer @davalynnspencer
Dandelions remind me of a cowboy from my former life as a sixth-grade teacher.
He was in my Ancient World History class and lined up each morning with the rest of the students. Except he wasn't much like the rest of the students.
In his Wranglers and dusty cowboy boots, he didn't dress like the others. A towhead among dark-haired children, he quietly stuck out in spite of how much he tried not to.
But in the spring when the dandelions sprouted, he was often at the front of the line with a short-stemmed bouquet and a shy smile.
I talked to him about cowboy things and noticed the shiny buckle he wore one day—his trophy for winning an event at a local junior rodeo. Most of the other kids had no idea what it meant to rope a calf or ride a snotty steer or run a pole pattern horseback.
He was a loner. A throwback perhaps, from a long line of those who preferred the company of their horse and a good view of the herd.
I saw that heritage when his father came to parent-teacher conferences one evening, a taller, stouter version of my dandelion cowboy in his good palm leaf hat and square-toed boots.
The creases at his blue eyes were several shades lighter than the rest of his sunbaked face—the badge of a working man who spent his days in the saddle.
His words were few, but they showed his heart. He wanted his young man to tend to business. Hold up his end of the load. Be polite and honest.
Cowboy morals.
Today when I see a patch of what most people call weeds, I smile and wonder about the little cowboy. If he stuck to his ways in spite of the crowd. I hope he's riding the California foothills with a good view of the herd and going to summertime rodeos, But most of all, I hope he's becoming the fine man I knew he would someday be.
My son, give me your heart,
And let your eyes observe my ways.
Connect with me via Newsletter | Facebook | Pinterest
#lovingthecowboy
(c) 2017 Davalynn Spencer, all rights reserved.